Mohamed Salah Statue Goes On Display In Egypt – But It Looks Like Someone Else
Image of a statue of Mohamed Salah taken from social media.
Footballers and sculptures don't go together too well.
Last year we had Cristiano Ronaldo looking like, well, anyone but the Juventus striker. And now it is Mohamed Salah's turn to be depicted in a work of art which has raised more than a few eyebrows.
The sculpture of the Liverpool star has gone on display at the World Youth Forum taking place in Sharm El Sheikh.
It was created by Egyptian sculptor Mai Abdel Allah, who told Egyptian media that she first had the idea back in 2016.
She said Salah stands as a "symbol of excellence in life for Egypt's youth" and she found it "distinguished and executable".View image on Twitter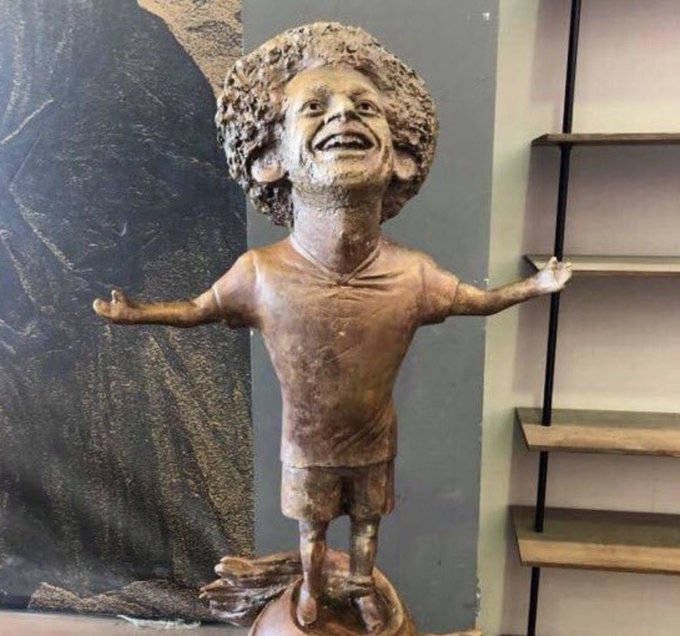 This Mo Salah statue is certainly something…
Salah's arms are open in reference to how he sometimes celebrates after scoring – although he has taken on a more sombre look this season having found goals a little harder to come by compared to last season when he notched 43 and broke a host of records in the English Premier League.
Social media users were unimpressed however, likening it to, among other characters, Marv from the legendary Home Alone film series, and Art Garfunkel – one half of celebrated musical duo Simon & Garfunkel.View image on Twitter
Once you've seen it you can't unsee it. Mo Salah's statue is a dead ringer for Marv.
Twitter Ads info and privacyView image on Twitter
that #MoSalah statue's a real winner
Our offering is the statue looks like Todd Flanders from The Simpsons.
Meanwhile, Ronaldo's dodgy bust was first unveiled at a ceremony to rename Madeira's airport after the island's most famous son.
It didn't last long before it was swapped at the request of the Portuguese player's entourage, according to reports.