An Abuja based man identified as Damola Opeyemi Kolawole has been accused by a Twitter user, Anj'money of raping her and six other women.
Anj'money said she was raped by Damola in 2018.
Check out the whole statements below.
"Here is @DamolaKO
's rape confession. His full name is
Damola Opeyemi Kolawole.
He works at
@louisvalng
He lives behind AP plaza Wuse 2," she said
Now he's calling me on WhatsApp trying to deny when there's fucking proof. There's an admission of guilt. I knew this could happen and that was why I made sure he knew what he had done. He's on my WhatsApp right denying, this guy is honestly sick!!!!! 
Ladies, he has a pattern, he says things and he manipulates. Till this day, I don't understand how I didn't immediately cut all ties with him. He would still comment on my posts on WhatsApp and crack jokes… I have something else to share with you guys 
The only thing that made me consider going to his place was because the house I was staying had electricity problems and I couldn't stand the heat. But when he started saying all this shit, I started reconsidering.
I ended up not going because I really couldn't relive that experience. Many of you may be confused as to how I was still talking to him, I'm also confused myself. I don't get it. See his words "I've enjoyed you". 
@DamolaKO
 you're a rapist and a sociopath and we go jam for court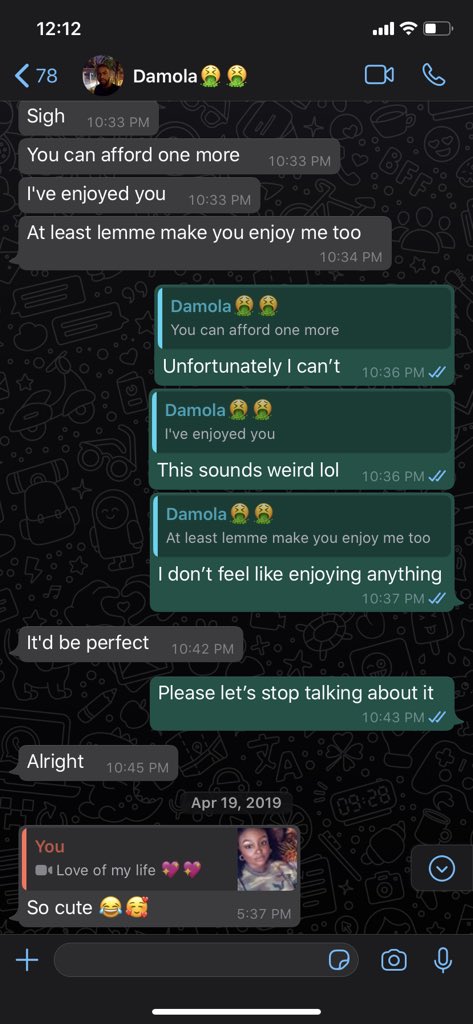 I can count six ladies who have reached out to me that he sexually assaulted them. This same guy!! This nigga is gonna be off the streets soon and that's a promise 
I see all your kind words of support and I really really appreciate and this has been a huge step for me but I'm a step closer to total healing. Best believe I'll be seeing him in court. Thank you all so much❤️❤️❤️
Below is Damola reactions to the accusations.
FYI, and for the avoidance of any doubt, I have not in any way sexually abused or molested the main instigator of all this. 
@lesliekinzz
Tell me 
@lesliekinzz
 , why are you so hell bent on seeing me "suffer"? Rather than seek justice in the right manner? Also, you must understand that there are repercussions for calling me a "Rapist" as none of the allegations were about rape. You're a lawyer after all.
Finally, 
@justduns
 , I believe you're affiliated with this person. As a well educated lawyer, you honestly should have advised him better.
"I'd be following this up very strongly with legal representation to further clear my name from all spurious allegations brought forward against me." Thank you, said.